How much should I pay for copywriting?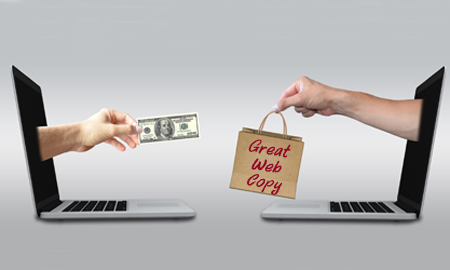 How much should I pay for copywriting?
What a great question - and oddly enough, one that so many copywriters seem scared to answer. But think about it. We're talking about your money after all and how you might be choosing to spend it - so it seems pretty reasonable to ask, 'how much does copywriting cost?'
Imagine you're standing outside a restaurant, examining the menu, but the menu shows no prices. What's more likely? That you take a table or that you move on down the street?
Well it's the same with copywriting. 'How much?' is an excellent question.
Good copy does the heavy lifting

Let's look first at what you get for your money. What's the benefit of great copy?
Visually engaging web design is, of course, vital. If your site is going to grab and keep the attention of the visitor, an attractive website is a must.
The design might be appealing, the imagery immaculate, the website structure well put together. These are all important, but they're little more than a beautiful, essential canvas for that vital ingredient called 'words'.
Well-imagined, creatively collated, organised and formatted words will
- grab your visitors' attention
- keep them on your website
- persuade them to 'engage'
- convince them to send you an email, pick up the phone, or better still - place an order.
Your website copy does the donkey work - the heavy lifting.
Where's the value in good website copy?
This a question only you can answer - and here's how.
What's the average value to you of a new client - annually?
Work out what a new client means to you, in purely monetary terms.
How much are you prepared to pay to get that new business?
Now think of the difference that well-chosen words on your website might make.
If an expert in the craft of copywriting works their magic on your website and increases your new client take-up by just 10%, what would that small percentage increase be worth to your business in terms of actual income?
And if the increase were 20%?
50%?
We'd better stop there. We're making your eyes water.
Remember - words make stuff happen
Good copy is ... copy that does the job.
Whatever that job might be, words make all the difference
Persuading potential clients why they should pay for your services
Convincing a nation to cast aside all common sense and vote for you
Leaving a note for the milkman, requesting that he stop sleeping with your wife
Use words well and you'll give yourself the best chance of getting people to do what you want them to do.
In short - words make stuff happen.
How much does copywriting cost?
You'll like this bit -
The first part of the copywriting process comes free!
Keep it to yourself ... but some of my work comes at no cost to you at all.
I'll always be happy to chat by phone or Zoom about your copywriting issues.
Maybe you're wondering about the direction you should be going with your website.
Perhaps, you've got a couple of questions about SEO, tone of voice or style.
No problem. I have a ridiculous, almost obsessive love affair with my profession. Sad as it sounds, I live and breathe the copywriting craft and am always happy to talk through your copywriting questions?
What are you trying to achieve?
What's getting in your way?
What are your business successes?
What challenges are you facing?
How much should I expect to pay for great copy?
The honest answer? It depends ... on you.
Let's take a simple 500-word page of website copy - perhaps one of your service pages.
Maybe you're already 100% happy with what you already have. You just need to have it checked for basic grammar, spelling and punctuation, then the price could be as little as £40.
Supposing, however, that your web page needs writing from scratch. You might decide you need the following -
In-depth keyword research
Comparative studies of competitor websites
Comprehensive research of the topic
Interviews with clients - both current and potential
Uploading the finished copy to your website
Search Engine Optimisation
Formatting the page so it looks as good as it reads
Oh - and the small matter of writing the copy, taking into account every single aspect of the copywriter's craft
Potentially two re-writes to make any amendments
All these processes - and many more - are vital parts of any decent copywriting project.
For just one page, you could be looking at half a day's work or more - maybe a few hundred pounds.
But maybe you need a halfway house. Perhaps you're happy to provide some of the research for yourself. Possibly you already have your keyword research results. It could well be that the uploading of the copy is something that your web developer has included in his price.
It's for you to decide how comprehensive you want the copywriting job to be. It might be that your 500-page web page can be effectively written for as little as £80 or £90.
The same goes for other the entire copywriter's menu -
- Case studies from £80
- Media releases from £110
- Direct mail letters from £170
Whatever service you need from your copywriter, the price will depend on
(a) How much information and research you can provide yourself
(b) How much value you place on your project
Find out more about how Copywriters work
See the growing collection of articles right here. And of course, do call +44(0)7703 472207. It'll be great to talk about costs, value and anything that will help you to decide how great copy will work for you.
Did you like this article? Was it helpful? Well, you reached the end, so it must have something going for it. The next one's going to be so much better. That's a promise! Sign up right here for future posts. Till the next time ...
May 10, 2020