Full service Copywriter
Great copy > More clients > More income
My name's Stephen Church from Copywriter Pro.
I'm a freelance copywriter.
But what's far more interesting is - who are you?
Do you run a small business?
Do you run a big business?
Do you run the marketing department in somebody else's business?
And how do you get on with your content - you know, the words?
Do you have the time and the skill to find the words that will truly engage your clients?
You don't?
Well I do ... and that's exactly where a copywriter comes in.
---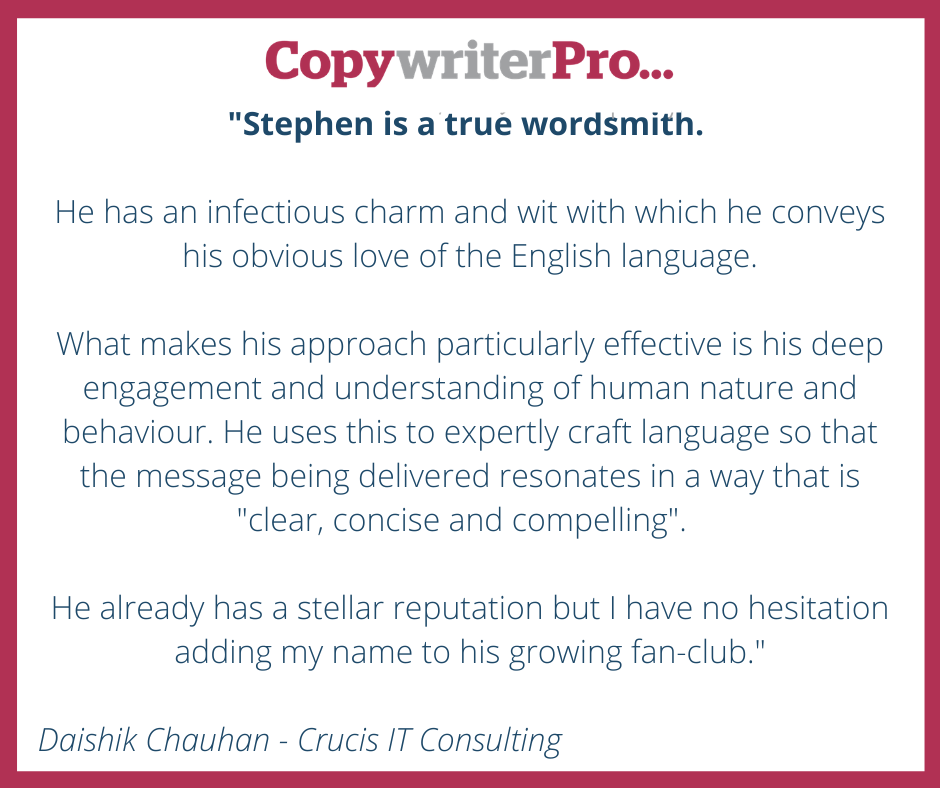 ---
Freelance Copywriting for business
Words are my world - but the biggest part of my work is finding out about your world
It's my business to find the right words – online or in print – for your business. With over thirty years' experience of writing commercially effective content, I have the know-how and the creativity to deliver words that are both fresh and compelling.
As a freelance Copywriter, I deal with local companies but also relish taking on projects from across the world.
Clients from small 'start-ups' right up to big businesses.
I have experience across a host of specialist fields.
HR
Health & well-being
Recruitment
Insurance
Retail
Prestige Brands
---

Copywriting that works online
You need copy that's clear, concise and compelling – making your online presence look special and feel special. I work on
---
Copywriting that Works for Print
Excellence and style for your printed material with value that's second to none.
You need copy that's persuasive, concise and original - that reflects your brand.
You need copy that's effective – using words that work, inspiring prospects to pick up the phone.
I cover all media formats – online, magazines, newspapers, emails, business letters.
I use 'tone of voice' to create distinctive language that reinforces your brand.
You'll find I'm quick on my feet - turning jobs round quickly and efficiently.
For web copy or print copy, this is how we'll work
We'll work collaboratively. Once you've told me all I need to know about your target audience, your company 'voice' and what you aim to achieve, I'll get to work.
Together we'll get your message across in the clearest, most compelling way possible.
I'm reliable - keeping to the agreed delivery times and estimates
I'll work with integrity and in a friendly, approachable manner.