A copywriting tip from one of the great storytellers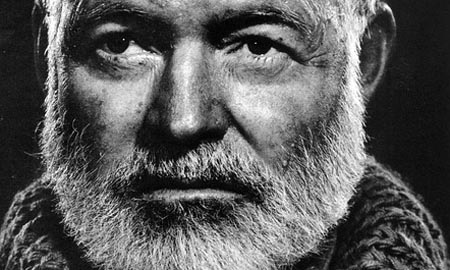 Ernest Hemingway - now he knew a thing or two about Copywriting
In spite of what you might have heard, Copywriting isn't easy – not even for an experienced copywriter. But boy it can be tough for a novice!
Cut, cut and cut again
Most copywriters would agree that the trickiest part is keeping it brief. (My family will tell you that brevity in conversation isn't my finest quality). When you're writing copy, the easy bit is bashing out your ideas onto a Word document. The tough part is the cutting. To write winning copy, we have to cut. Then cut some more and then, cut once again. Oh – and then … cut one more time.
But cutting alone isn't enough. We still have to make sure that our words still do the job. It's no good pruning a fruit tree back so far that it dies.
One of the best copywriters in history was Ernest Hemingway. One of the finest ever short story writers, Hemingway didn't only know how to keep things short. His outrageous talent enabled him to generate energy, suspense and emotion from a mere handful of carefully chosen words.
A great tip for any budding copywriter - Hemingway's Iceberg theory
Here's one of Hemingway's short stories.
"For Sale: baby shoes, never worn."
This is a desperately sad story. But the words themselves are just the tip of the iceberg. Those six words all by themselves trigger an initial shock. Our imagination does the rest – creating a heavy sad, swell of emotion.
Applying the Iceberg Theory to your web copy will help rein in your instinct to rattle off everything that happens to be in your head. It will help you focus on the things that really matter.
When people pass by your website, they will often only pay attention to the tip of the iceberg. This will probably be your Home Page. The Home Page Headline will be the tip of the tip. This is the part that 98% of viewers will see. Your opening paragraph might be seen by 85%. The rest of your Home Page – possibly 45%.
It's your job to use cleverly crafted brevity to keep as many of your browsers reading on for as long as you possibly can.
Your iceberg tip will be a few well-chosen words and sentences. Be sure to get the message across in these opening lines and prune away all the dead wood.
Show your readers a touch of courtesy
Don't try to cram every idea, every offer, every service into your Home Page. Leave the details to other pages of your website where people who want to read on can do so. Your readers will thank you for this. By being concise, you're showing them courtesy. You're acknowledging that they are busy and don't have time to wade through waffle.
Like Hemingway's short, yet powerful mini-tale, your website should set off impulses and emotions that get people to engage with your whole story.
Sep 22, 2019